Recent one-of-a-kind pieces. Contact me re:availability
Pins & Magnets
All pins and magnets are$10.95-$14.95 retail
please call me if you would like to order:
323-299-9702
or e-mail AmyLacombe@rocketmail.com
Thanks!
​(wholesale also available!)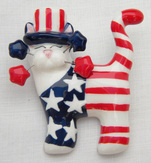 Yankee Doodle Kitty
Pin or Magnet
Still one of WhimsiClay's all-time best sellers, plucky little Yankee Doodle Kitty pin allows you to express your patriotic spirit in a lighthearted whimsical way. 2 1/4' H.




---

Tropical Fish
Pin or Magnet
So close, yet so far! Tropical Fish pin or magnet is hungrily eyeing the frolicking fish adorning his watery blue body. Bring a smile to someone's face with this comical little piece.

---
Tex Pin or Magnet
​Pin is almost out of stock, we do have the ornament
---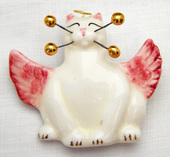 Angelica Pin or Magnet $14.95
Like her big sisters Angelica figurine and ornament, Angelica pin or magnet is one of Whimsiclay's longest running designs and still a top seller, a classic. Sublime appeal, with spiritual overtones as well as elements and details such as gold tone halo and 14K gold whiskers make it easy to understand her enduring popularity
---
Shanice...out of stock, sorry
---

Sweetheart
Love is always in the air when Sweetheart is around. Multi toned pink hearts seem to beat before your very eyes on this very sweet WhimsiClay cherished choice. A purr-fect pick for Valentine's Day or any day. 2 1/4' H

---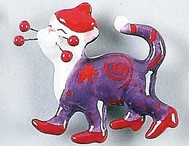 Virginia
VaVaVa Voom, & OOH La La, check out Virginia struttin' her stuff in her red beret and purple pumps!! Stru your's too, wearing this cute 2 1/2" pin
​
---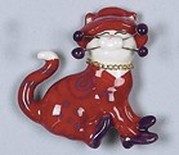 Teresa
Racy red hat, pleasing purple shoes, and gold chain/pearl drop necklace make sitting-pretty Teresa a terrific accent for any occasion. 2 1/2"
---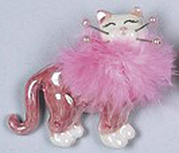 Priya $14.95
Named after WhimsiClay designer Amy Lacombe's younger daughter, 'Priya' means "love". Pink is also a color that denotes love, as well as to promote calmness. Add a sheen of mother-of-pearl lustre glaze, as well as a sprinkling of faux crystals and fluffy feather boa, and spread a little love wherever you go.
---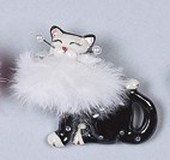 Cha Cha $14.95
Purr-fect for any occasion in classic black and white, Cha Cha will spiff up your outfit in a wonderful and eye-catching way. The lustrous black glaze is layered in rich mother-of-pearl, and sprinkled with acrylic crystals for a rich look that belies this pieces low cost. Maribou boa adds a further fanciful touch.
---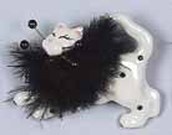 Luz $14.95
Luz is poised to pounce into you heart with her classy black & white details including feather boa, black diamond crystals, black pearl whiskers, and mother-of- pearl lustre glaze. 2 1/2" L.
---

Lucie $14.95
Named after WhimsiClay designer Amy Lacombe's daughter, Lucie pin is a real beauty. Glorious azure-lustred glaze, cornflower maribou, sapphire crystals, and cerulean pearl whiskers make Lucie a true blue choice. 2 1/4' H.
---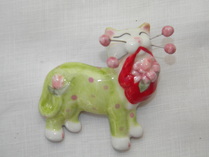 Dahlia $12.95
Delightful Dahlia comes to you bearing her generous floral gift in a lucky red purse. Another bloom adorns her tail tip, and her chartreuse coat with pink polka dots are sure to entice you! 2 1/4'
---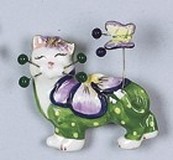 Laurie $12.95
Pansies and polka dots and butterflies Oh My! Laurie's flower-draped emerald coat attracts the hovering butterfly, and will attract you too. 2 3/4' L.
---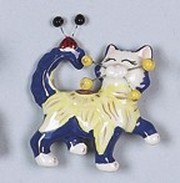 Mara $12.95
Mara's sunny disposition and sunflower draped sapphire coat bring to mind the French countryside. Her daintily lifted paw, lucky ladybug, and feminine eyelashes round out the package. 2 3/4'
---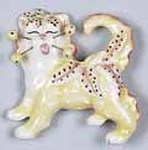 Lily $12.95
Look at that tongue! Lily's saucy stance and beautiflul blossoms bring the exotic world of the tiger lily to you in a wonderful, whimsical pin. 2 3/4' L
---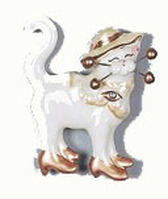 Isadora $12.95
Subtle but striking tones and old world charm are Isadora's prominent presentations. Dressed to the nines in hat, shoes and bejewelled shawl, she's ready to go whenever you are. 3' H.
---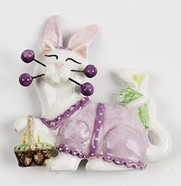 Ester $14.95
Eggs-tra special Ester is extra elaborate! Bunny ears, mauve-trimmed lavender dress, detailed basket, and graceful Calla lily make this cat pin an especially esteemed and essential addition to any collection of cute cats!
---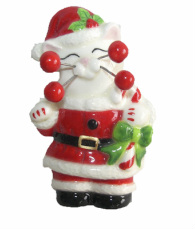 Katkringle $14.95
All decked out in his Santa garb, Katkringle is standing up to bring you h liday joy. Red ball whiskers, golden belt buckle, and of course the signature WhimsiClay smily eyes make this feline St. Nick a sure pick. 2 3/4" H.
---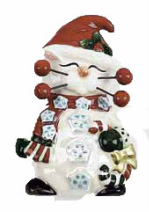 Flurry $14.95
Little snow kitty Flurry has details galore! Carrot nose, red elfin hat, ice-blue flakes, mittens, boots, bows, canes and scarf all in the 'good-things-come-in-small-packages' 2 3/4".
---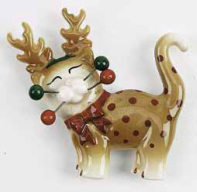 Rudy $14.95
Who doesn't know a mischievous little feline like Rudy? He's trying to masquerade as one of Santa's reindeer…. Ahhh, but he can't disguise his signature whiskers! A jaunty bow adorns his collar.
---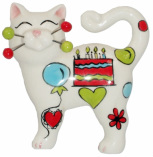 Birthday $12.95
You say it's your Birthday…it's My Birthday too. We have a party in a pin…or magnet. Balloons, cake, hearts, flowers, upbeat, fun colors, and the trademark smiley eyes of an adorable cat. All we need is You! 2 1/2" H
---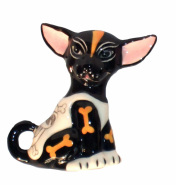 "Killer" $10.95
Nah, he's not mean…just maniacally mischievous! What Chihuahua isn't? You know what I mean, of course you do. His exaggerated ears, teasingly tilted eyebrow, and delightful dimpled smile make this bone -bedecked babe completely comical and irresistible. You know you can't say no to Killer, the
​cutie.
---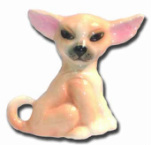 Chihuahua $10.95
Creamy and dreamy, with exotically outlined soul-piercing eyes and a cute l'il face you just want to kiss, our fawn colored Chihuahua pin or magnet is understated and whimsically elegant. 2 3/4" H.​
---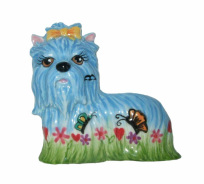 "Sunshine" $10.95
You can almost feel the precious Spring day, and even smell the Spring flowers when you picture an adorable Yorkie chasing butterflies, her silky fur swishing in the breeze. That's our Sunshine. Pin or magnet, 2 1/2" L​
---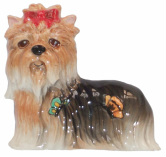 Yorkie $10.95
Exquisitely detailed in bas-relief sculpted ceramic, the flowing fur of our irresistible Yorkie girl, along with with crimsom bow and cavorting butterflies, pack a lot of punch in a tiny little work of art, available as a pin or magnet. 2 1/2".​
---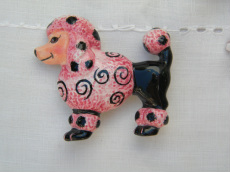 "Pretty in Pink" $10.95
Retro inspired pink & black colors, polka dots and swirls, dimpled smile and twinkling eyes all work together beautifully to make WhimsiClay's Pretty in Pink one comely canine! Blushing cheeks and heart shaped nose will melt your heart (and open your wallet!! ;-) ​
---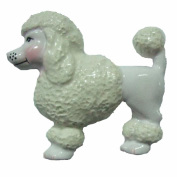 Poodle
Classy & Classic, the sculptural serenity of the pleasingly simple white design of WhimsiClay's white Poodle pin will add an understated but delightful accent to any outfit. 2 3/4" H. Pin or magnet​

---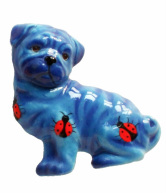 "Bug" the Pug
This playful pug has the blues. Rich blue colors that is…but undeniably pug in all other respects. Curly tail and smooshy skin, his concerned expression belies the delight he actually takes in all the lovely ladybugs playing on his pleasing pugness. ​

---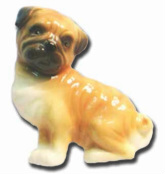 Pug
White chest puffed out in pride, our black-masked fawn colored plump little Pug knows he's cute and will push his way into your heart in a heartbeat. 2 1/2" H. Pin or magnet​

---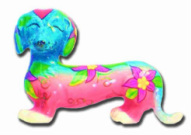 "Roxie" Doxie
Roxie… Extra long on style and fun, floral Roxie Doxie is a great choice for all Dachshund lovers and indeed dog lovers of any kind. With her dimpled smile, heart festooned forehead, and soothing color scheme, Roxie is sure to bring a smile to your face and warmth to your heart​

---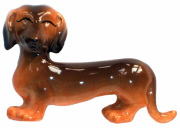 Dachshund
Pleasing, rich black accented brown and shiny coat, added to the engaging smiley-squinty eyes give this cute Doxie dog almost universal appeal. This wearable art pin will add an amusing touch to your lapel. Also available as a magnet…2 3/4"L.

---