Pins & Magnets
All pins and magnets are$9.95 retail
please call me if you would like to order:
323-299-9702
or e-mail AmyLacombe@rocketmail.com
Thanks!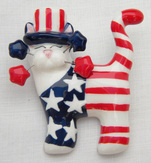 Yankee Doodle Kitty
Pin or Magnet
Still one of WhimsiClay's all-time best sellers, plucky little Yankee Doodle Kitty pin allows you to express your patriotic spirit in a lighthearted whimsical way. 2 1/4' H.




---

Tropical Fish
Pin or Magnet
So close, yet so far! Tropical Fish pin or magnet is hungrily eyeing the frolicking fish adorning his watery blue body. Bring a smile to someone's face with this comical little piece.

---
Tex Pin or Magnet
​Pin is almost out of stock, we do have the ornament
---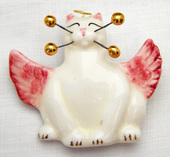 Angelica Pin or Magnet
Like her big sisters Angelica figurine and ornament, Angelica pin or magnet is one of Whimsiclay's longest running designs and still a top seller, a classic. Sublime appeal, with spiritual overtones as well as elements and details such as gold tone halo and 14K gold whiskers make it easy to understand her enduring popularity

---
Out of stock :-(
---

Sweetheart
Love is always in the air when Sweetheart is around. Multi toned pink hearts seem to beat before your very eyes on this very sweet WhimsiClay cherished choice. A purr-fect pick for Valentine's Day or any day. 2 1/4' H

---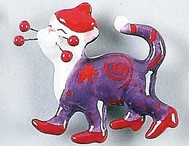 Virginia
VaVaVa Voom, & OOH La La, check out Virginia struttin' her stuff in her red beret and purple pumps!! Stru your's too, wearing this cute 2 1/2" pin
​
---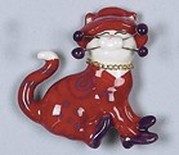 Teresa
Racy red hat, pleasing purple shoes, and gold chain/pearl drop necklace make sitting-pretty Teresa a terrific accent for any occasion. 2 1/2"
---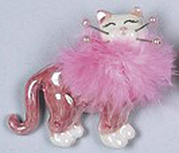 Priya
Named after WhimsiClay designer Amy Lacombe's younger daughter, 'Priya' means "love". Pink is also a color that denotes love, as well as to promote calmness. Add a sheen of mother-of-pearl lustre glaze, as well as a sprinkling of faux crystals and fluffy feather boa, and spread a little love wherever you go.

---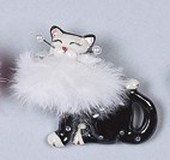 Cha Cha
Purr-fect for any occasion in classic black and white, Cha Cha will spiff up your outfit in a wonderful and eye-catching way. The lustrous black glaze is layered in rich mother-of-pearl, and sprinkled with acrylic crystals for a rich look that belies this pieces low cost. Maribou boa adds a further fanciful touch.
---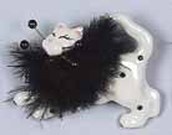 Luz
Luz is poised to pounce into you heart with her classy black & white details including feather boa, black diamond crystals, black pearl whiskers, and mother-of- pearl lustre glaze. 2 1/2" L.

---

Lucie
Named after WhimsiClay designer Amy Lacombe's daughter, Lucie pin is a real beauty. Glorious azure-lustred glaze, cornflower maribou, sapphire crystals, and cerulean pearl whiskers make Lucie a true blue choice. 2 1/4' H.

---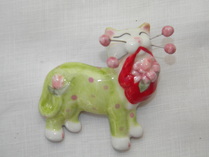 Dahlia
Delightful Dahlia comes to you bearing her generous floral gift in a lucky red purse. Another bloom adorns her tail tip, and her chartreuse coat with pink polka dots are sure to entice you! 2 1/4'
---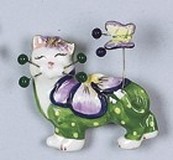 Laurie
Pansies and polka dots and butterflies Oh My! Laurie's flower-draped emerald coat attracts the hovering butterfly, and will attract you too. 2 3/4' L.

---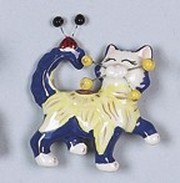 Mara
Mara's sunny disposition and sunflower draped sapphire coat bring to mind the French countryside. Her daintily lifted paw, lucky ladybug, and feminine eyelashes round out the package. 2 3/4'
---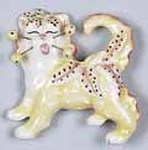 Lily
Look at that tongue! Lily's saucy stance and beautiflul blossoms bring the exotic world of the tiger lily to you in a wonderful, whimsical pin. 2 3/4' L

---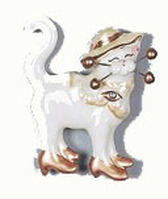 Isadora
Subtle but striking tones and old world charm are Isadora's prominent presentations. Dressed to the nines in hat, shoes and bejewelled shawl, she's ready to go whenever you are. 3' H.

---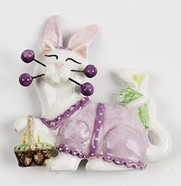 Ester
Eggs-srta special Ester is extra elaborate! Bunny ears, mauve-trimmed lavender dress, detailed basket, and graceful Calla lily make this cat pin an especially esteemed and essential addition to any collection of cute cats!

---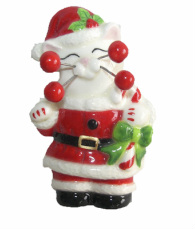 Katkringle
All decked out in his Santa garb, Katkringle is standing up to bring you h liday joy. Red ball whiskers, golden belt buckle, and of course the signature WhimsiClay smily eyes make this feline St. Nick a sure pick. 2 3/4" H.
---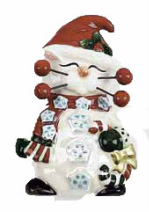 Flurry
Little snow kitty Flurry has details galore! Carrot nose, red elfin hat, ice-blue flakes, mittens, boots, bows, canes and scarf all in the 'good-things-come-in-small-packages' 2 3/4".
---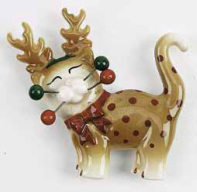 Rudy
---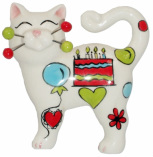 Birthday
---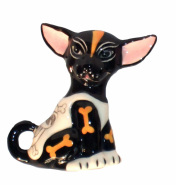 "Killer"
---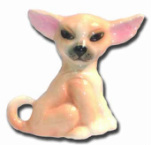 Chihuahua
---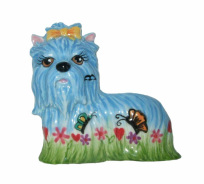 "Sunshine"
---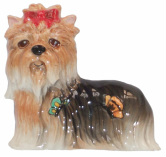 Yorkie
---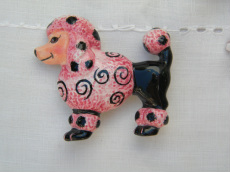 "Pretty in Pink"
---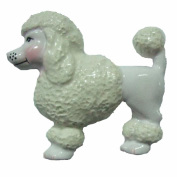 Poodle
---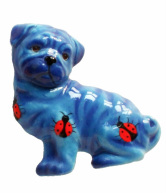 "Bug" the Pug
---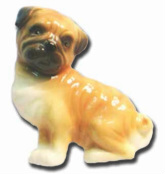 Pug
---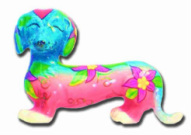 "Roxie" Doxie
---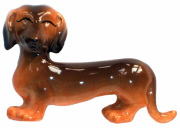 Dachshund
---